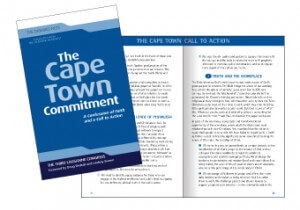 T
he second part of
The Cape Town Commitment
(CTC) summarizes the themes of
Cape Town 2010
, the Third Lausanne Congress.
The first section of Part Two (CTC IIA) – 'Bearing witness to the truth of Christ in a pluralistic, globalized world' – includes a significant sub-section on the threefold media challenge:
4. Truth and the globalized media

We commit ourselves to a renewed critical and creative engagement with media and technology, as part of making the case for the truth of Christ in our media cultures. We must do so as God's ambassadors of truth, grace, love, peace and justice.

We identify the following major needs:

A)    Media awareness: to help people develop a more critical awareness of the messages they receive, and of the worldview behind them. The media can be neutral, and sometimes gospel friendly. But they are also used for pornography, violence and greed. We encourage pastors and churches to face these issues openly and to provide teaching and guidance for believers in resisting such pressures and temptations.

B)    Media presence: to develop authentic and credible Christian role models and communicators for the general news media and the entertainment media, and to commend these careers as a worthy means of influence for Christ.

C)    Media ministries: to develop creative, combined and interactive use of 'traditional', 'old' and 'new' media, to communicate the gospel of Christ in the context of a holistic biblical worldview.
This threefold media challenge from The Cape Town Commitment provides the framework for the Lausanne Media Engagement Network and all our resources here at EngagingMedia.info.
Photo credit: © Lausanne Movement. Used under a Creative Commons (CC-BY-NC-SA-2.0) licence.